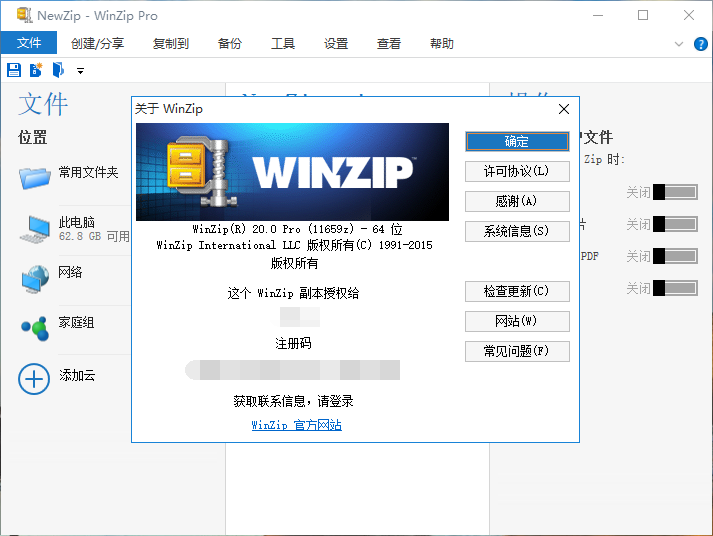 WinZip是Windows系统中最受欢迎的档案压缩工具也是一个强大而易用的工具.它可以迅速压缩和解压您的档案以节省磁盘空间或是减少电子邮件传输时间,此外 WinZip支持128位和256位AES加密功能,让使用者在传递具有高度机密性的数据能够不易让其它人轻易解档.WinZip是世界各国数以千计的政府机关、教育单位、银行电信、公司与组织及无数的普通用户所爱好喜用的压缩工具.
更新日志
v24.0:
– NEW! Search Files faster
Stop searching for files in all the wrong places. Use WinZip's new built-in search feature to quickly track down files stored locally, on your network, or in your cloud storage, even when you don't remember where you put them.
– NEW! Combine Multiple PDF files into One PDF
Use WinZip Pro or Enterprise to combine your PDFs. You can convert multiple PDF files into a single PDF file to save, zip, or share. You can even organize the order of pages in your PDF, then combine and protect them with WinZip's PDF security features.
– NEW! Experience better Zipx Compression
Compress your Zipx files smaller and faster. WinZip's new compression method for Zipx format is based on ZSTD. That means you can use it to compress and decompress many file types faster, while achieving compression rates better than DEFLATE and DEFLATE64.
– NEW! Pin Favorites in the Files Pane
Pin and access favorite files and folders in WinZip's Files Pane. The Files Pane is already a convenient way to manage, zip and unzip your files. Now you can pin your favorite local, network, and cloud-based files to the Quick Access section and access them with the click of a button.
– NEW! Shell Extensions supported in the Files Pane
Perform shell extension operations right from the Files Pane. Getting better Explorer functionality is as simple as adding Shell Extensions to the Explorer context menu. Now that WinZip's Files Pane supports these extensions, you no longer need to leave it to perform operations previously only available in Explorer.
– NEW! Create Backup Jobs from Explorer
Use WinZip Pro or Enterprise to create Backup jobs from the Explorer context menu. Just select files in Windows Explorer, select Create a WinZip Job, and choose when and how often your job runs. WinZip will walk you through Zipping and storing selected files, optional notifications, and sharing features.
– ENHANCED! Manage file clutter more efficiently
Set a schedule for WinZip's Cleaner Tools to find computer, network, or cloud storage files you haven't used in a while. Then decide if you want to delete, zip, or relocate them. You can even use the new Ignore option to prevent files you don't want to clean from being flagged. And WinZip Pro and Enterprise users can create custom, filter-based cleaners.
– ENHANCED! Get improved Zip File Performance with Direct Access
Use WinZip's Direct Access to bump up cloud-stored Zip file performance by downloading only parts of a file as you need them. The larger the Zip file, the better performance you'll experience. Direct Access even downloads extra Zip file parts in the background and keeps them ready while you're choosing files to unzip or view.
– ENHANCED! Switch Easily between Zip and Zipx
You can now use a simple Ribbon toggle to switch between creating a Zip or Zipx file. And when you're ready to save, you can choose between saving your file as Zip or Zipx.
– ENHANCED! Enjoy Extended Enterprise cloud support
WinZip Enterprise users will enjoy expanded Enterprise cloud services. With better control and a better fit for your business in mind, WinZip's supported cloud services have expanded to include OpenStack and SwiftStack regions and credential files, Alibaba, Wasabi, HP, Oracle, Azure, WebDAV, CenturyLink, IONOS and OVH cloud providers.
官方下载(26.0 英文版)
http://download.winzip.com/winzip260-32.msi
http://download.winzip.com/winzip260-64.msi
官方下载(26.0 简体中文版)
http://download.winzip.com/winzip260zh-32.msi
http://download.winzip.com/winzip260zh-64.msi
官方下载(17.5 简体中文版 – XP只支持到此版本。)
http://download.winzip.com/winzip175zh-32.msi
http://download.winzip.com/winzip175zh-64.msi
用户名:China
注册码:F8H6E-HU4HG-FL29M-0LPJM-JP7Q9-J3T7U
网盘下载(WinZip_Keygen_4in1_By_DFoX_v3.5 + Universal Keygen v3.3 // 对 25 仍然有效!!)
http://pan.baidu.com/s/1dEA7L53#gbes 密码:gbes